Adventure and discovery awaits in every direction, so lace up your boots and hit the road!
This is only a small portion of the many interesting sights available in Deming, New Mexico. To learn more about the Deming area and its many attractions, call: (575) 567-1962 or visit Deming Visitors Center
Historic Downtown Walking Tour
Unlike many towns in the West, Deming's downtown retains much of its historic character. About 37 buildings in the downtown district retain their distinct historical significance, 16 of which are listed on the State Historic Register. In fact, four of the buildings are also on the National Register of Historic Places! Start your journey into the past by starting the Historic Landmark Walking Tour at the Deming Luna Mimbres Museum and Customs House at 301 S. Silver Avenue. Follow the map below and return to the museum, and then cap your tour with a visit to the Luna County Courthouse Park.
Start planning your Historic Landmark Walking Tour right now by reading about the historic buildings you'll encounter on your journey!
---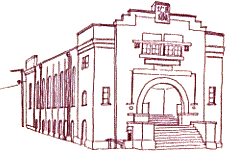 1. Deming Luna Mimbres Museum – 301. S. Silver
Built as an armory in 1917, the Deming Luna Mimbres Museum is a classic red brick, two-story structure with a decorative front concrete parapet and a coat of arms. Listed on the State and National Register, the museum is a true treasure, filled with historical artifacts and displays of the surrounding area.
---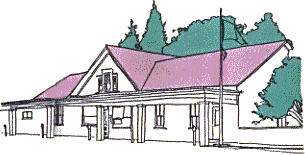 2. Custom House – 304 S. Silver
Based on historical Sanborn maps, the Custom House was built around 1889, and served as the home of Judge Seaman Field, U.S. Customs Officer. Additions were built in 1902, 1908, and 1930. The Custom House has a long front portico with Greek columns, a double-gabled shingle roof, and a bay corner window. Listed on the State and National Register, the house retains its historic character and importance.
---
3. Baker Hotel – 120 - 124 S. Silver
A two-story corner building with authentic signboards, bulkheads, bay doors, and a metal hood over a lower floor of individual shops, the Baker Hotel is reminiscent of similar buildings from the same period. It was Deming's most important community meeting place and a symbol of the early importance of Silver Avenue and Spruce Street. This building is listed on the State Register.
---
4. Business Buildings – 112 – 114 S. Silver
Comprised of two buildings that were completed by 1886, it originally served as an office with a hay store, and a livery and blacksmith. The building is decorative brick with mission features, and has multi-lineal parapets with brick relief. Boasting an authentic, original appearance, this building is listed on the State Register as part of the Silver Avenue Historic District.
---
5. Retail Establishment – 110 S. Silver
Built in 1902, this charming building was originally the power source for the Deming National Bank. Later, it became a place for storage. It's red brick façade has a segmented arch door and windows, stepped parapets and an attached garage with double wooden doors. It is listed on the State Register as part of the Silver Avenue Historic District.
---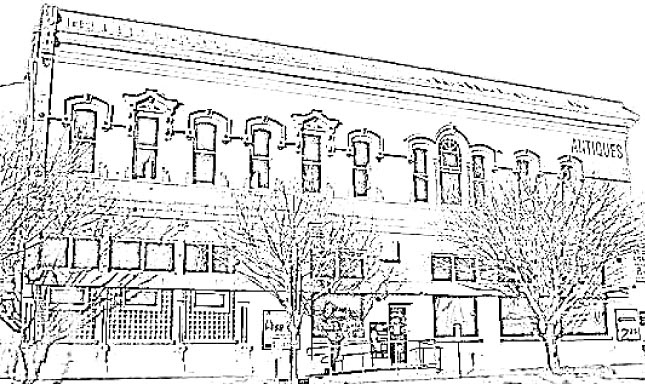 6. Two-Story Grandeur – 122 E. Pine
Designed and built in 1893 by Sherpe and Koker of St. Louis, this building features a recessed door, glass-brick rear windows and iron buttresses in the Richardsonian Romanesque style. The second floor windows are rounded arches with keystones. The interior has multiple staircases, a large safe, and wall murals. Listed on the State Register as part of the Silver Avenue Historic District.
---
7. Rustic Storefront – 105 – 107 N. Silver
Completed in 1917 and expanded in 1930, the wood-framed plate glass windows perfectly complement the signboard and visible bulkheads. It features a truncated room with concrete block and stone-capped crenellations. A brick front and adobe rear an example of unique, southwestern innovation. This building is listed on the State Register as a part of the Silver Avenue Historic District.
---
8. Historic Restaurant and Pool Hall– 114 - 116 N. Silver
Originally designed as an early restaurant and a pool hall, this building was finished in 1913. 114 N. Silver boasts a brick exterior with a low-gabled parapet and unique fleur-de-lis ornamentation. The six-boarded transom windows are still visible, as well as decorative buttresses. 116 N. Silver, which was originally wood faced over adobe, now has a brick exterior. Listed on the State Register of Cultural Properties.
---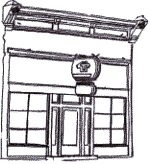 9. Old West Storefront – 118 E. Pine
9. Old West Storefront – 118 E. Pine Built in 1886 and expanded to the rear in 1902, this historic property has served many purposes over its long existence. It has been a grocery store, gentlemen's furnishing store, a Chinese restaurant, cigar store, and a used furniture outlet. The front door has a side transom, a signboard, and glass blocks. The building has flat room with truncated corner caps and a decorative cornice. Listed on the State Register of Cultural Properties.
---

10. Old City Hall – 109 E. Pine
Built in 108, this building was originally the City Hall and fire station. It was remodeled in 1938 in Spanish Pueblo Revival style by the WPA. The building has a recessed portico entry with wood vigas and ornate pillars with lintels and corbels. The addition on the east side has a portico with an ornate wooden door, and still has a large garage door at the rear of the building that used to be for the fire station. Meeting rooms, a stage, and an auditorium with high ceilings are still used for meetings and stage productions.
---
11. Morgan Hall – 100 S. Gold
This building was rebuilt after a fire in 1914, and now features a blonde brick exterior with keystone window motifs. Brick and cement pilasters, metal and cement cornices and limited stone facing complement the original etched metal vault that's now used as an office. Listed in the State Register of Cultural Properties.
---
12. Masonic Hall – 110 S. Gold
After being completed in 1917, this building was used as offices and a Masonic Hall. A classic, two-story brick structure, it has recessed entry and double doors. There is a side door to the second floor. The glass brick area on the side is a source of light from the South. Above the signboard are second-floor, transformed windows. The large wooden cornice is topped by a cement-capped parapet and flat roof. This building is also listed on the State Register of Cultural Properties.
---
13. J.A. Mahoney Building – 122 S. Gold
This historic building was one of Deming's most important commercial structures from the 1920s through the 1950s. Completed in 1912, the J.A. Mahoney Building is on State and National Registers. Double doors and transoms work well with the yellow-brick front, red-brick sides, and ground-level bulkheads. A decorated cornice is topped by a capped parapet.
---
14. Tea Pot Dome – 200 S. Gold
Built in 1886, the Tea Pot Dome has served as a stable, a meat market, and other businesses. The front is brick with an inset bay door and transoms that open for ventilation. The Tea Pot Dome has a pressed-tin ceiling, and is an excellent example of Queen Anne Commercial Style. Listed on the State Register of Cultural Properties.
---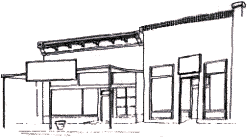 15. Brick-Faced History – 202 S. Gold
Built in 1893, this building has led a versatile existence as a cobbler's shop, grocery store, and a bar. The front brick frame was added by 1930, and the building has a deco-brick parapet. Wood-framed windows and inset double doors still feature a functioning transom. Listed on the State Register of Cultural Properties.
---
16. Luna County Courthouse – 700 S. Silver
Designed by W.B. Corwin, the Luna County Courthouse was completed in 1910. A masterpiece of period styling, the courthouse has a tall clock tower and Greek portico, inspired by 19th century Midwest public buildings. The old brick jail building lies to the east, building in 1918 by Braunton and Liebert of El Paso, Texas. The Luna County Courthouse is the site of the controversial trials of 30-some Villistas of the Columbus raid of 1916, four of whom were hanged in the yard of the county jail. The entire complex is listed on State and National Registers.
St. Clair Winery
Owned and operate by a sixth-generation French winemaking family, St. Clair Winery produces world-class, award-winning wine right here in Luna County. Founder Herve Lescombes brought his family to New Mexico from Burgundy, France, and planted his first vineyard in 1981.
The vineyards are located 47 miles west of Deming, at an elevation of 4,500 feet. This creates warm day and cool nights, with a temperature difference of up to 30 degrees Fahrenheit or more. This climate makes it possible to grow some of the base grapes in the Southwest.
St. Clair's winery operation and tasting room are located just east of Deming. The tasting room is open for sampling and sales seven days a week, and offers a relaxing venue for tasting.
---
Luna Rossa
The word Luna Rossa means "red moon," and that's the inspiration behind the winery's quest to create great wines from the finest vineyards in New Mexico. Luna Rossa offers a warm, enchanting setting where visitors can enjoy great wines and wonderful times with friends and family.
Luna Rossa was founded in 2001 by Paolo and Sylvia D'Andrea, and they have put their hard work and dedication into building a great winery. Paolo was born and raised in the region of Friuli, which is located in the Northeast part of Italy. He comes from a heritage of four generations of wine growers.
Luna Rossa is dedicated to producing fine wines. All the varieties are produced exclusively with grapes grown in vineyards located near Deming in the Mimbres Valley. Paolo and Andrea invite visitors to come sample and taste the wines which display their passion and commitment to growing the finest grapes in the Southwest. Luna Rossa intends to offer visitors the best New Mexico has to offer.
---
Walking Trails
Voiers "Pit" Park
(located at North Country Club and East Cedar St)
Deming High School Track
(located on Buckeye Rd and Granite St, across from Deming High School)
Country Club Road Multi-Purpose Path
(located along N. County Club Rd, from South of Pine St to Dona Aña Rd)
Raymond Reed Blvd. Multi-Purpose Path
(located along Raymond Reed Blvd from east of Country Club Road, along soccer fields on the south side)
Florida St. Multi-Purpose Path
(runs from east of Columbus Highway to Country Club Road.)
Golf Courses
Known for its classic style and lively atmosphere, the Rio Mimbres Country Club is one of the best-kept secrets in the Southwest. Amidst Spanish vigas and flagstone walkways, and a stunning view of the Florida Mountains, the Clubhouse draws on the desert's warm, rich surroundings. Golfers and diners are invited to come experience the enchantment of the Southwest at the exclusive club and restaurant.
---
Starmax Entertainment Center
Starmax is a family entertainment center that includes a movie theater featuring the latest Hollywood releases. When the movie is over, have some fun at the bowling alley or video arcade. Don't forget to stop by and enjoy a refreshing beverage or delicious meal at the sports bar and grill. Located at 333 N. Country Club Road, Deming.
---
Deming Luna Mimbres Museum
The Deming Luna Mimbres Museum, regarded as the "Smithsonian of the southwest," is located at 301 S. Silver Avenue. This museum, organized and run by volunteers in the community, features exhibits about Deming, the region, and New Mexico. FREE with a request for a donation.
The Deming Luna Mimbres Museumhouses exhibits relating to the everyday lives of the citizens of Deming and the Mimbres Valley. They include paintings, furniture, period rooms, antique machines and tools, toys, dolls, clothes, vehicles, farm equipment, war memorabilia, photographs, Indian artifacts, gems and geodes, and an important collection of Mimbres pottery. The Deming Luna Mimbres Museum was named for the City of Deming, Luna County, and the Mimbres Valley. It is housed in the old National Guard Armory, which is listed on the National Register of Historic Places and is also a State Historic Site. The best souvenir shop in Deming!! There are many different types of memorabilia available to commemorate your travel to Deming. The Deming Luna Mimbres Museum also houses the largest on display collection of Mimbres pottery.
---
---
---
---
---
---